Chai Co-distill Hydrosol
Chai co-distill hydrosol has an absolutely irresistible aroma! It's warm, exotic, and comforting. Spicy-sweet scents are popular during the holidays, and chai co-distill is a perfect example. It also tastes delicious and brings strength and energy to the entire system—especially the belly and immunity. Our distiller crafts this hydrosol by steam distilling six certified organic spices in the same batch: ginger, cinnamon, clove, cardamom, star anise, and black pepper. Once you experience it, you won't want to be without it!
Product Properties

Cultivation

Certified Organic

Chemical Families

Aldehydes

Botanical Families

Various

Extraction Method

Steam Distilled
Therapeutic & Aromatic Properties

Therapeutic Properties

Analgesic

Antimicrobial

Immune support

Warming

Nervine

Aromas

Sweet

Warm and Radiant

Woodsy

Spicy

Peppery

Fruity
Suggested Uses

Purify - Germs

Use chai co-distill as a room spray in your office when co-workers are sniffling.

Digest - Bloating

Drink 1 teaspoon of chai co-distill in 12 oz of hot water for a delicious, sweet, spicy tea after a holiday meal!

Purify - Immune Support

Safeguard your health with a warming chai co-distill body spray—smell great and stay healthy!
Safety and Shelf Life

Shelf Life

2 years

Safety & Warnings

Avoid spraying on skin and around eyes.
GCMS Data

All essential oils at Aromatics International are GC/MS tested. This ensures that we sell oils with the highest possible integrity for therapeutic use. Learn more about GC/MS reports here.

You can check out some of the latest batches by clicking the links below.
View full details
Customer Reviews
Write a Review
Ask a Question
Filter Reviews:
hydrosol
scent
aroma
chai
room spray
blend
chai co-distill
fragrance
clients
products
Comforting, warm and spicy...now all gone!
I have to restock my supply! I love anything Chai: tea, hydrosol, the spices that make up the beautifully warm and inviting scent! I bought this a couple months ago and ran out very quickly! I added all of the wonderful oils to it with some aloe vera gel and other carriers and used it as a body spray...needless to say I couldn't stop spraying it all over so I ran out! Like the description said, I don't want to be without it!
11/13/2022
Kim

United States
Love this
I really love the smell and spray myself every morning, when it's not sold out, it's uplifting and gets me going
10/09/2022
Donna E.

United States
Perfect Fall Hydrosol
Fall is my favorite season and this blend helps me to enjoy it even more. The warming spices in this chai calm my heart and helps me to settle my thoughts.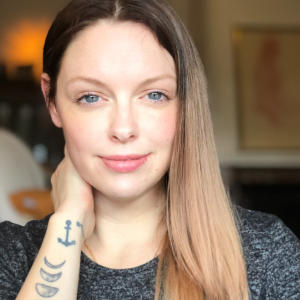 CH
10/08/2022
Courtney H.

United States
Chai Latte
Love this hydrosol! I add 1/2tsp - 1tsp to my morning latte to give it that light fall feel without all of the sugar!
10/07/2022
WyndeezB

United States
Everything I hoped it would be!
I don't know why I kept hesitating to buy this hydrosol but when I did finally purchase it, it was I hoped for! Wonderful Chai spiciness! To ramp up the flavor and scent I added all of the EO's I already own: ginger, cinnamon, clove, cardamom, star anise, and black pepper and some moisturizers to make a body spray. And it is awesome! I spray it on me every chance I get and now I'm almost out! I loooove the aroma...it's so soothing and smells exactly the tea. I take a nice warm shower and spritz it all over when I get out and it's such a pick-me-up! I'm a big fan of spicy oil like all of the ones in this hydrosol so it made my day! :) Now I need more!